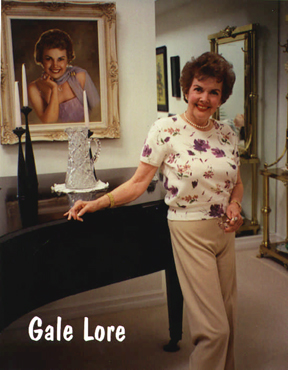 Welcome to the Gale Storm Appreciation Society Homepage! The Gale Storm Appreciation Society was formed to pay tribute to the accomplishments of Actress, Singer, and Entertainer Gale Storm. Gale Storm is probably best known for her role as Margie Albright in tv's "My Little Margie" and as Susanna Pomeroy in tv's "Oh Susanna!". She also has many film credits including 3 films with Roy Rogers. Her 12 top hits include "Dark Moon", "A Teenage Prayer" and "I Hear You Knocking"...each of which has sold over one million copies.
Membership in the Society is free, but if you'd like printed copies of the next newsletters please email me for details on how to order them: rebelbaker@hotmail.com
---
The following articles and photos are featured in the winter issue of January 1999. For current issues, please go to http://sites.netscape.net/galestormsociety/homepage
---
Hollywood Collectors Show
Ray and Sharon Court's Hollywood Collectors Shows are magical events for all fans of the golden age of movies and television. The fans get to meet the television families they grew up with and, sometimes, the stars get to renew old friendships. The photos on this page show Gale Storm with Anne Francis (who played TV's "Honey West"), Gloria Henry (who co-starred with Gale in several episodes of "My Little Margie" as well as being Dennis' mother on the "Dennis the Menace" TV series) and Gary Gray ("Where Are Your Children?". The other two photographs show Gale with her gorgeous granddaughter Alexis.
Anne Francis with Gale Storm
Gary Gray with Gale Storm
Gale Storm with Alexis Bonnell
for more information on the Ray Courts Hollywood Collectors Show visit:
http://www.hollywoodcollectorshow.com
---